In our observation more than 60 – 70 percent of people's innate talents and potentials get dissipated in the organizational way of working. Often, people could be sitting with ideas, power and potentials which go unnoticed, untapped and thus becomes a loss for the individual and the organization.
Training needs to empower every individual in the organization. Vision needs to become a source of inspiration for every individual in the organization.
Our role is to support you to do a 'head-stand' in your people development initiatives. Our mission is to offer solutions for the development of people that touch ALL at ALL levels of your organization. We create roadmaps that integrate solutions across and help you build a progressive learning culture. Training goes beyond jargons, techniques and slide shows, we design development initiatives that are experiential, co-owned, participative, practical, implementable and integrative.
Our Coaching journeys are initiated by the individuals gaining insights, discoveries & clarity during sessions. The sessions are structured to facilitate progress, achieve breakthroughs and work from the potential that is already present in them. Individuals have experienced their next level self in terms of skill & actions during the coaching session itself. Thus, the rate of internalisation, application & progress is higher.
Apart from facilitating we also mentor our people in the art of grooming and developing their teams and the organization through our expertise, experience, tools & methodologies.
Our approach and commitment as we partner with you is to
Across our work in the space of empowering purpose, potential and practices we have served people development in unique ways. Here are few experiences we are sharing of work done across industries, cultures and business lines. For the purpose of brevity we have kept the essence alive. We are happy to take you through details. Get in Touch
My experience with Peoplefirst has always been very professional. Every single profile shared is sourced carefully to meet the required criteria for the role. Always been a fan of conversion rate. Extremely good in their swift response and engagement. Thanks for all the support and looking forward to a wonderful partnership.
People Hiring Testimonials
Head HR – Leading MNC Bank
Banking & Finance,
BEING ADVANTAGE – INSTRENGTHS PROFILING™
A tool that helps individuals take a pause and look within. It supports in bringing clarity into your thinking process, emotional states, internal sense of power, degree of joy, and state of well-being of your body. Through research, we have clarified them as eight different parts of your being. The tool reveals your strengths present and patterns within you and their link to competencies needed to thrive in your work and life. Discover insights to tune your Being to its optimum 'radiance' and expression.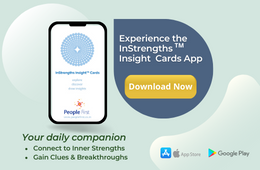 INSTRENGTHS INSIGHT CARDS
Your daily companion to explore, discover and connect with your inner strengths. A DIY toolkit that houses 60 inner strengths across the 8 parts of our inner self – in physical cards and app forms.
WORKSTYLE ORIENTATIONS FRAMEWORK
A simple and impactful framework that can be used to address diversity in thoughts, styles and approaches. It outlines 8 fundamental orientations. Using this at work supports in deeper understanding of people interactions, leverage collective strengths, build sensitivity & collaboration, understand what is present / flowing or missing / stuck in a project / team/ goal achievement to propel it forward.
A tool to transform the collective space within teams. The process brings into awareness the quality of the inter-subjective space within teams that is present; the underlying dynamics of dialogue; and support transformation of energies present, mental formation, physical spaces. It also holds space for the deeper aspirations touched / shared within the group.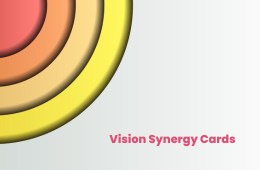 A reflective process that uses a set of cards to move through phase of – immersion into vision; check into resonance points; bring in aspiration; connect to the synergy points; and then act from it.