Shraddha Patel
Head - Coaching & Collaborations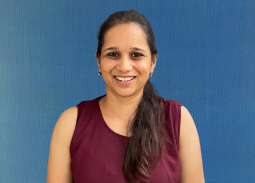 Shraddha is a Leadership, Parenting, Idea & Purpose Coach and Design Facilitator. She supports individuals and collectives to explore their core essence and bring that to action. She co-creates transformational journeys with them that support their authentic expression and bringing their best self forward. With more than 15 years of experience in COE's of HR functions across sectors, she has the ability to look at the big picture and hold space for awareness of human potential. 
An HR professional with an ability to look at the big picture and leverage business & HR linkages to develop people potential. She is constantly looking out to understand the elements & essence of transformative journeys (Individuals & organizations). While being driven by intelligence, she can empathetically inspire results through successful shifts in people interventions. She is a transformational coach. Working with mid to senior management leaders through group or one on one coaching to explore their inner being and supporting their outer experience is her key strength.
Her work with teachers, parents and children is a lifelong passion, that she has nurtured within People First Consultant's, integral education space. Apart from driving key people interventions and corporate/personal/ life coaching – she has co-founded a parenting movement 'Parenting with Depth'. Her passion for exploring the world of parenting was inspired through her experiences with organization leaders which drew her awareness to importance of tapping potential early in life. She supports individuals and collectives to connect with their purpose and express their inner being in the world.
An alumnus of Loyola Institute of Business Management (LIBA), Co-certified in 'Coaching with Depth – Level 2' from People First Consultants and IIT Madras, she is a practitioner of Nichren Daishonin's Buddhism.
Courses & Certifications
Gender Diversity Workshop | Course on Situational Leadership | Certification on Balanced Score Card | Program on Competency Mapping, Targeting, Talent Development for HR | Six Sigma Green Belt Certification | Theatre Arts – Movement, Music, Drama and Art Therapy
Areas of Expertise & Coaching Approach
She believes in the power of being aware of the source within. Development of inner being & expression in the outer world are two sides on the same coin and critical for the process of transformation. Every individual has the capability to lead themselves to their next milestone and achieve it joyfully. And this inward journey towards manifesting the outer results encompasses, working through being aware of strengths and challenges, patterns and structures, flexing patterns to develop self and others and most importantly centring in the body for guidance and clues.
Whatever the coaching goal identified by the beneficiary, her success in coaching interventions comes from being able to curate the transformational journey that supports the unique needs & constitution of the inner qualities in a natural and most resonant way for the beneficiary.
Reflective Listening: observing the whole being with a neutral poise– perceptions, words, emotions, sensations, movements.
Creative Confidence: support to rediscover the intuitive ability to birth and manifest new ideas/pathways
Compassionate Courage: engages with kindness and commitment to make change possible
Invincible gratitude: spots, celebrates & nurtures inner strengths as they organically become present